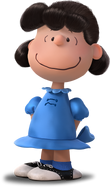 Lucy van Pelt is a girl from Peanuts.
Voice Actors
Karen Mendelson (1963)
Tracy Stratford (1963, 1965)
Sally Dryer (1966–1968)
Pamelyn Ferdin (1969–1971)
Robin Kohn (1972–1973)
Melanie Kohn (1974–1975, 1977)
Sarah Beach (1976)
Lynn Mortensen (1976)
Michelle Muller (1977–1979)
Laura Planting (1980)
Kristen Fullerton (1980, 1982)
Sydney Penny (1981)
Angela Lee (1983)
Heather Stoneman (1984–1985)
Jessica Lee Smith (1984-1985)
Melissa Guzzi (1986)
Tiffany Billings (1986-1988)
Ami Foster (1988)
Erica Gayle (1988–1989)
Jennifer Banko (1990)
Marnette Patterson (1992)
Molly Dunham (1993)
Jamie Cronin (1995-1997)
Rachel Davey (2000)
Lauren Schaffel (2002)
Serena Berman (2002–2003)
Ashley Rose Orr (2003)
Stephanie Patton (2006)
Michelle Creber (2008-2009)
Grace Rolek (2011)
Hadley Belle Miller (2015)
Bella Stine (2016-present)
She is a dwarf
She is a cat
She is a sea witch
She is an Explorer
She is a girl in Man Village
She is a Bully
She is a little girl
S7E08 Chinatown - this is a special role portrayed by a pure blood American character, but the portrayed character was a Chinese-American... Mother of the murder victim Jack Chao Lu (portrayed by Shermy), and the eldest Ling Lu (portrayed by his love interest Schroeder) and wife of the deceased Hong Lu (portrayed by Michael Lee [The Life and Times of Juniper Lee]). She will be seen her son's ghost alongside his girlfriend Tam Sung (portrayed by Marcie) together with Joe Sung (portrayed by her brother Linus Van Pelt which also previously appeared in Thrill Kill)
She is a puppy
Gallery:
Community content is available under
CC-BY-SA
unless otherwise noted.