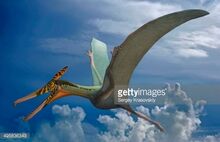 Ludodactylus was a genus of pterodactyloid pterosaurs from the Aptian-age Lower Cretaceous Crato Formation of Ceará, Brazil. The genus was named by Eberhard Frey et al. in 2003 and contains one known species, Ludodactylus sibbicki. The name is derived from Latin ludus, "play" and Greek daktylos, "finger". Ludus refers to the fact, long lamented by paleontologists, that many toy pterosaurs combined teeth with a Pteranodon-like head crest, while no such creature was known to exist — however Ludodactylus shows exactly this combination of features. "Dactylus", in reference to the characteristic long wing finger, has been a common element in the names of pterosaurs since the first known was named Pterodactylus. The specific name "sibbicki" is an homage to the paleoartist John Sibbick.
Gallery
Community content is available under
CC-BY-SA
unless otherwise noted.