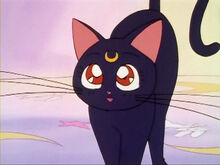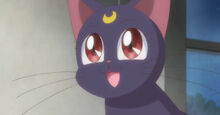 Luna is the black cat in Sailor Moon. She is the reliable and faithful animal sidekick of Usagi/Sailor Moon, helping her to fight enemies and fulfill her destiny as a Pretty Guardian.
Also Known For Stephen Squirrelsky
She is Comquateater, Julimoda, and Diana's mother.
Voice Actors:
She is a talking cat
She is a green dinosaur
She is the Cerulean City gym leader
She played Herself in Sailor Rebecca
She is the same cat
She is
She is Zoe Drake's big sister.
She Played Sharon In Braceface (190Movies Animal Style)
She Played Pocahontas In Lunahontas (Duchess Style).
She Played Soleil Space In The Spacebots (Chris1988 Animal Style)
She Played Treat Heart Pig In The Care Bear Family (Chris1988 Style)
She Played Daphne Blake In

Rover Dangerfield, Were Are you
She played Serena in

Pokemon XY (1985Movies Animal Style)
she is a
She Played In

Pokemon Advanced Generation (1956Movies Animal Style)
She will play Robyn Starling in

Atom and Mars: The Movie

.
She will play Aki Sakata in

Return of Ultrafeline (Ultracat Artemis)

.
She is Ken and Jiro's sister, as well as Goh's love interest.
Portrayals:
Gallery: