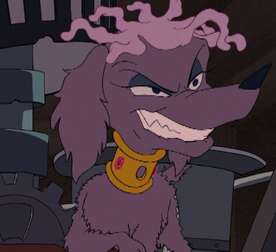 Madame Mousey is the villain in An American Tail: The Mystery of the Night Monster.
She is a member of Team Rocket
She is a bad witch
Madame Mousey plays Tabitha Harperstein in Fievel in New York
She is a murderer
Madame Mouse plays Zira In The Tramp King 2 Tramp's Pride
She is an angry lioness
She is an evil lion
She is a witch of Morva
She is a criminal
She is a witch
She is a witch
She is an evil woman
She is an old woman
Madame Mouse Played Belladonna In All Mice Go To Heaven Series(Nikkdisneylover8390's version)
He is a dog
Madame Mousey Played Mrs. Snaptrap In T.U.F.F. Cat
She is The Mother of Snaptrap
She is a Sea Witch
Madame Mousey Played Lady Tremaine in Dustyrella
She is a Step-Mother
Madame Mousey played Scarlett in Total Drama (Badly Drawn Rainbow Animal Style)
She is a lioness
Madame Mousey played Yzma Kitten in The Girl's New Groove
She is a cat
Voice Actors:
Candi Milo - English
Cony Madera - Latin Spanish
Maria Rydberg - Swedish
Sonia Mazza - Italian
Détár Enikő (2000 dub) & Náray Erika (2004 dub) - Hungarian
Anna Sroka - Polish
Gallery:
Community content is available under
CC-BY-SA
unless otherwise noted.