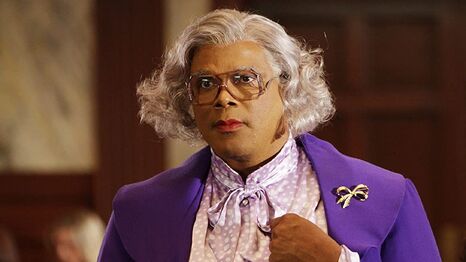 Mabel "Madea" Simmons is the matriach and main protagonist of the numerous "Madea" films. She is Tyler Perry's most famous character. She has 4 brothers, Frederick, Joe, Heathrow, and Willie, who she briefly married and one sister, Irene.She has 3 children, Michelle, William, and Cora. She first appears in in the 1999 play, "I Can Do Bad All By Myself".
Madea is based on Perry's mother and his aunt. In Perry's own words Madea is "exactly the PG version of my mother and my aunt, and I loved having an opportunity to pay homage to them. She would beat the hell out of you but make sure the ambulance got there in time to make sure they could set your arm back".[2]
The Madea films/plays are comedies, but all contain serious themes and are intended to deliver moral messages about issues such as infidelity, spousal abuse and consequences of one's actions.
Early years[edit]
Madea was born in Greensburg, Louisiana,[3] on June 26, 1935, and raised in New Orleans, Louisiana. Her maiden name is unknown, but it is presumably either Baker or Murphy as they were the last names of her father and mother, respectively. (Madea was 65 in the first play, I Can Do Bad All by Myself, as well as Madea's Class Reunion. Her ages in the other plays are unknown because they take place between these two plays, and there's no continuity offered. In Madea Goes to Jail, Madea was around 75). In "I Can Do Bad All by Myself," she reveals she once lived in Cleveland, Ohio, but later returned to Atlanta. Madea was a hooker and a stripper.
Madea was brought up in poverty and grew up living in a shotgun house with her parents and siblings. Madea has stated that although her family didn't have much, they had love.[4] She even claimed that her daddy would go outside and hunt for dogs and cook them on the stove to eat for dinner. According to A Madea's Christmas [the play], Madea's mother, "Big Mabel" Murphy, was a hooker during Madea's childhood and was not at all religious. As a result, Madea grew up with little knowledge of religion (as an elderly woman, Madea has a tendency to misquote the Bible).
When she was in her early teens her family moved to Atlanta, Georgia where they lived in the west side. She attended Booker T. Washington High School where she served as a cheerleader. It is unknown where and when she met her first husband, Johnny. Madea and Johnny ended up having their first child, Michelle as young teens possibly 15 or 16. Then when Madea was 18 she got pregnant again with her other daughter, Cora who is the result of a one-night stand Madea had with an unknown man so this makes Johnny not the father of Cora. Then sometime later Madea and Johnny had a son, William. Then soon all her children ended up married and having kids. Madea and Johnny had to raise two of their grandchildren, Maylee and Vianne, after their daughter's death due to her drug addiction.
Criminal background[edit]
Madea's criminal record began at age 9 with a charge of theft. She was charged with her first felony at this age, and her crimes began progressing to illegal gambling at age 18, which later evolved into check fraud, identity theft, insurance fraud (related to her nine deceased husbands), assault, attempted murder, and vehicle theft.
In Diary of a Mad Black Woman alone, Madea and her granddaughter Helen McCarter were both charged with "criminal trespassing, reckless endangerment, criminal possession of a handgun, assault with a deadly weapon, [driving on a] suspended license, expired registration, reckless driving, and a broken taillight", which caused Judge Mablean Ephriam to place Madea on house arrest, while her granddaughter was bailed for $5,000.
In Madea's Family Reunion, Madea got brought before Judge Ephriam after she removed her ankle monitor to get Joe some medicine in violation of her house arrest. Brian persuaded Madea to take Judge Ephraim's offer to become the foster mother of Nikki Grady.
In Meet the Browns, she was arrested for resisting arrest, failure to stop at a red light which led to a high speed chase, assaulting a police officer. violating her probation
In Madea Goes to Jail, Madea was placed under anger management by Judge Ephriam that was overseen by Phil McGraw in light of the car chase and the police officers failing to read Madea her Miranda rights. She was arrested once again for damaging a woman's car in a parking lot and was sentence 5 to 10 years in prison by Judge Greg Mathis. When assistant district attorney Josh Hardaway exposes the fraud, tampering, and false document providing done by assistant district attorney Linda Davis, this led to a protest demanding the release of Madea and those that Linda prosecuted which is even talked about on The View as a lot of media outlets classified them as the Georgia Seven. Following the full investigation the sentences of Madea, Candace Washington-Collins, Bernice Davis, Ida Mae Jones, Takeda Matthews, Andrea Thomas, and Elizabeth Bryant were overturned and they were released from prison.
In the animated film Madea's Tough Love, Madea got arrested for excessive damage to public property (which she unintentionally committed while chasing after two unruly skateboarders that offended an old lady), two bench warrants, 25 unpaid parking tickets, and an unpaid speeding ticket. Madea is placed under house arrest by Judge Michaels much to the annoyance of Joe and sentenced to community service guiding the young souls at the Moms Mabley Youth Center where a special monitor is placed on her to make sure she does her job as Officers Fred and Frank are assigned to keep an eye on Madea.
Media and entertainment featuring Madea[edit]
Madea has appeared in several plays (some of which have been recorded for repeated viewing), fully produced films, a couple of television programs (guest appearances), one book and one animated film. The character made her first appearance in the 1999 play I Can Do Bad All by Myself, later appearing in numerous other plays by Perry, then appearing in films based on those plays.
Plays (including recorded plays)[edit]
I Can Do Bad All by Myself—2000
Diary of a Mad Black Woman—2001
Madea's Family Reunion—2002
Madea's Class Reunion—2003
Madea Goes to Jail—2006
Madea's Big Happy Family—2010
A Madea Christmas—2011
Madea Gets a Job—2012
Madea's Neighbors from Hell—2013
Madea on the Run—2015
Madea's Farewell—2020
Films[edit]
Diary of a Mad Black Woman—2005 (themes: adultery, hurt, revenge, forgiveness)
Madea's Family Reunion—2006 (themes: spousal abuse, women standing up for themselves)
Meet the Browns (cameo)—2008
Madea Goes to Jail—2009 (themes: prostitution, addiction, forgiveness)
I Can Do Bad All by Myself (cameo)—2009
Madea's Big Happy Family—2011 (themes: marital conflict, family secrets, death)
Madea's Witness Protection—2012 (themes, aside from comedy: family relationships)
A Madea Christmas—2013 (themes: racism, bullying, religion in the public sphere)
Boo! A Madea Halloween—2016 (themes: teenage rebellion)
Boo 2! A Madea Halloween—2017 (themes: consequences of actions)
A Madea Family Funeral—2019[5] (themes: infidelity, taking responsibility, racism)
A Madea Homecoming—2022[6]
Animated film[edit]
Television series[edit]
House of Payne (guest appearances)[edit]
In the TBS comedy-drama House of Payne pilot episode "Bully and the Beast", Madea was the foster mother of Nikki. She factored into the plot through a school altercation between her adopted daughter and Curtis Payne's (the series' protagonist) great-nephew Malik. Curtis takes a particular disliking to Madea, who is not in the least bit intimidated by Curtis at all. Rather conversely, Curtis became intimidated by Madea and had nightmares about her.[7]
In the episode "The Wench Who Saved Christmas", Curtis tries to discourage everyone from having the Christmas spirit. He later fell asleep and dreamt that Madea was the ghost of Christmas past, present, and future. In this form, she tried to teach him a lesson about his killjoy behavior.[8]
In the episode "Wife Swap", Curtis' wife Ella chastises him for taking her for granted. That night, Curtis has an extended nightmare where he is married to Madea instead of Ella.[9]
Meet the Browns (mentioned)[edit]
On another TBS series, Meet the Browns, Mable is said to be the mother of Cora Simmons as a result of a one-night stand with the show's lead character. She is an unseen character throughout the series.[10]
Love Thy Neighbor (guest appearance)[edit]
On January 21, 2015, Madea made a special guest appearance in the Oprah Winfrey Network comedy series, Love Thy Neighbor. The episode titled "Madea's Pressure Is Up" aired as part of the 3rd season of Love Thy Neighbor.
Miscellaneous[edit]
In a commercial to BET+, Tyler Perry explained this streaming service to Madea and Joe at the time when they were arguing on what to watch on TV.