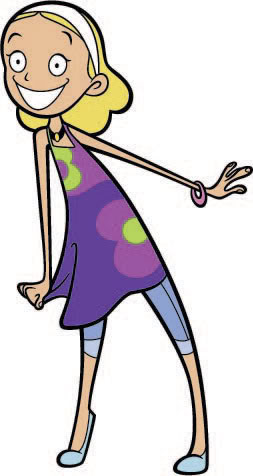 Madison Spaghettini Papadopoulus is a character from Class of 3000.
Biography
Madison is loud, happy and extremely optimistic as is evidenced from her perpetually vacant smile, and has a bit of a Southern voice like Eddie; however, her hippie-child appearance belies the perceptive mind behind it. She is always happy or thrilled no matter what happens, even if she gets hurt, though she does cry when the kids are put down after learning their lesson in Am I Blue? Madison is sometimes crazy, creates havoc and disaster, and is often the focus of Tamika's bullying (in the episode Home, for example, Tamika shoved a tuba onto her head) Madison has a huge imagination and usually can't concentrate on what's really supposed to be done. She enjoys the company of many animals and baby creatures. In the pilot episode she mentions that she has a grandmother who is of Colombian descent. However, her last name suggests she is of Greek descent. Her instrument is the high-pitched violin and/or viola, but in the game Funk Box, she also plays a cello. She is 12 years old.
Quotes
Hey, hey, hey, Sunny.
I hope it's a million dollar bucks.
Ooooooooooooh, I know what these are.
Hey, hey! I'm Madison and I'm a Pisces!
Um... yes to the date or yes to the shoe closet?
Does he prefer cats or dogs?
Hey hey hey! Sell this before my neighbors get home.
Vote for Madison! Yay me!
Um like happy bumblebees.
Are there little green men?
We are tearing down the walls of constipation with the wrecking ball of cream spinach!
Think, Madison, think.
Love is in the air...
Those exercises always make me so happy. They hurt so bad my fingers almost fell off!
I am always happy! Double duh!
Oh no! Someone's going after Phil!
Oh hihihi! I play violin, and I think we're going to the end! Bye!
Gallery
Trivia
Her hair becomes frizzy when love is in the air. But in the end of the episode, "Love is in the Hair...Net", Lil' D tells her that there is no love in the air and it's just some spaghetti sauce.
In "Brotha from the Third Rock", she reveals that she is multilingual.
Madison has two moods: happy and thrilled.
She divides her languages into fractions when she talks about digital American Music from her ancestor.
She's a fan favorite of the show.
In "Am I Blue?" her personality is considered smart.
Her appearances in the Stephen Squirrelsky and Friends' Movie Spoof Travels are Cloudy with a Chance of Meatballs, Finding Alvin, Animated Tale, The Forest Book 2, Nikki's Adventures of Sing Along Songs Episode 10, Madagascar, and Sleeping Beauty and will even be in more movie spoof travels.
Community content is available under
CC-BY-SA
unless otherwise noted.