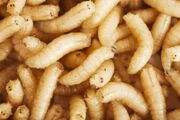 A maggot is the larva of a fly (order Diptera); it is applied in particular to the larvae of Brachycera flies, such as houseflies, cheese flies, and blowflies, rather than larvae of the Nematocera, such as mosquitoes and Crane flies. A 2012 study estimated the population of maggots in North America alone to be in excess of 3×105 trillion.
Gallery
Community content is available under
CC-BY-SA
unless otherwise noted.