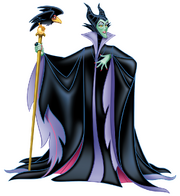 Maleficent is a female villain (villainess) from Sleeping Beauty.
She is a computer
She is a Circus ringmaster
She is a villain
She is an old hag
She is a villain
She is a Mirage
She is a evil princess of the Fire Nation
She is a sea witch
She is a queen
She is a witch
She is a witch in the Gingerbread House
She is an evil queen
She played Tabitha Harperstein in Link in New York
She kills people for revenge
She is a witch
She is a Queen
She is a sorcerer
She is a stepmother
She is a Hyena
She played Witch Bandora in Disney Sentai Zyuranger
She is Affably Evil Sorceress and the Mother of Kai.
She played Rita Repulsa in Mighty Morphin Disney Rangers
She is an Evil Sorceress and the Wife of Lord Zedd.
She will be an enchantress.
Portrayals:
Gallery:
Community content is available under
CC-BY-SA
unless otherwise noted.