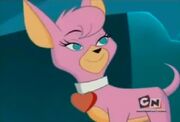 Mammoth Mutt is a female character from Krypto The Superdog.
As Cindy Lou Who in How The Wolf Stole Christmas (2000)
She is a who
As Princess Elionwy in The Black Cauldron (PrinceBalto Style)
She is a princess
As Heather in Over The Animation Hedge
She is an opossum
As Ducky in The Land Before Time (PrinceBalto Style)
She is a dinosaur
As Ruby in The Naked Cage (PrinceBalto Animal Style)
As Cub Vitani in The Wolf-Dog King II: Balto's Pack
She is a lioness
As Angel in Brainy & The Krypto II: Tail's Adventure
She is a puppy
As Lex Murphy in Jurassic Park (PrinceBalto Style)
She is a girl who loves computers
As Lilo in Mammoth Mutt & Sonic
She is a girl from Hawaii
As Alice in Mammoth Mutt In Wonderland
She is a girl
As Princess Jasmine in Pookaladdin
She is a princess
She is a Pony
She is a girl
She is a Powerpuff girl
Gallery
Trivia
Her appearances in the Stephen Squirrelsky and Friends' Movie Spoof Travels are Skunkules, Home on the Range, Kermit's Winter Wonderland, The Little Jungle Boy, Kermiladdin 2: The Return of McLeach, AiAi The Monkey and A Day for George, The Reindeer and the Deer, Animal Story 2, AiAi the Monkey's Grand Adventure: The Search for Tails, A Cartoon Character's Life, Nikki's Adventures of Sing Along Songs Episode 7, Here Comes Winnie the Pooh, Animals, Inc, Simba 2, Miss Bianca and the Bernard 2: Fievel's Adventure, FernGully: The Last Rainforest, and A Pooh in Central Park and will even be in more movie spoof travels.
Community content is available under
CC-BY-SA
unless otherwise noted.