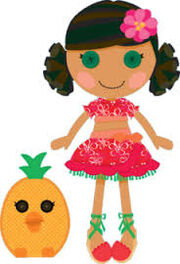 Mango Tiki Wiki is Lalaloopsy Land's very own hula dancer! She is a tropical island girl who has a personality that shines brighter than the sun! She's a perky and upbeat girl who loves to listen to island music and play her ukulele. She can throw the best luaus in all of Lalaloopsy Land! Mango can often be found outside playing or just enjoying the weather while practicing her hula-dancing. She is also very crafty, as she loves to make fresh flower bracelets and leis, and she can even carve a ukulele out of an plain coconut. With her around, every day is a party…or, a luau! Mango is the older sister of little Kiwi Tiki Wiki. Her name is based off of her favorite tropical fruit, Hawaiian tiki statues, and the Hawaiian phrase "wiki-wiki" meaning "quickly".
About Mango
Appearance
Mango is a brown skinned girl with forest green eyes and pale pink cheeks. She has black hair worn in pigtails by her ears and straight wrapped bangs in the center with a pink flower worn on the left side of her head.
She wears a top and skirt with the top resembling a slightly frilled blouse an the entire dress having white flower markings and a three layer belt with orange with a silk orange ribbon wrapping around it. Underneath her skirt is a visible luau skirt/layer. She wears orange slip on shoes with green lace ribbons.
Pet
Her pet is a pineapple bird.
Home
Her house is an island bungalow-type building. She has a flower pathway leading to the steps, a bunch of coconuts, and what looks like a coconut drink on top of the roof of her home.
Trivia
Gallery
Main article: Mango Tiki Wiki/Gallery