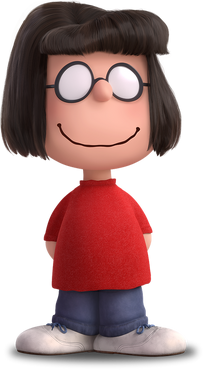 Marcie is a female character from Peanuts.
Voice Actors
Jimmy Ahrens (1973–1976, 1977)
Casey Carlson (1979–1981)
Shannon Cohn (1981–1982)
Michael Dockery (1983, 1985)
Keri Houlihan (1984–1986, 1988)
Jason Mendelson (1986)
Tani Taylor Powers (1988)
Marie Cole (1989)
Lindsay Benesh (1992)
Nicole Fisher (1994–1997)
Ashley Edner (2000)
Jessica D. Stone (2002)
Melissa Montoya (2003)
Jessica Gordon (2006)
Rebecca Bloom (2015)
Taylor Autumn Bertman (2016)
Roles
S7E08 Chinatown - 15 year old Chinese-American girl which in the evening of August 1983, during the festival she was accidentally shot to death by a mysterious man, which her boyfriend Jack Chao Lu (portrayed by Shermy) was alarmed and seeking for her justice. However, because of this reason that he will also joined her to heaven as his big brother Ling Lu (portrayed by Schroeder) will beat him up to death as he want to keep him quiet after he discovered about his big brother involved in a dangerous group. Her ghost alongside Jack will both be seen by their very respective parents Da Chun Lu and her father Joe Sung (portrayed by sibling. in real life Lucy van Pelt and Linus Van Pelt respectively).
Portrayals:
Gallery