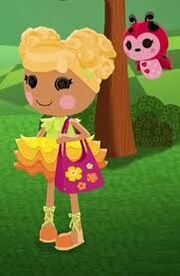 Mari Golden Petals is Lalaloopsy Land's very own marigold enthusiast. She's an always happy girl and loves the touch of golden sunrays on her face. Nothing delights her more than the sweet smell of flowers. Mari is the older sister of little Posy Golden Petals. Her name is based off of a play on words of a marigold flower.
About Mari
Appearance
Mari has brown skin with big black eyes and bright, light pink cheeks. Her hair is a golden blonde with the bangs being rolled back, except for a single strand. Her pigtails/buns are entirely composed of flowers and held with two tiny ivy-green bows.
Mari wears a silk green tank top with flowery petals around the neck. The skirt is in three laters, the top being yellow with green fading on top, a yellow layer, and then a layer of orange. She wears orange flats that cover the toe and heels, and have green silk ballet-wrappings around her legs.
Pet
A pink ladybug with black eyes, nose, spots, and antennae. Her inner face and body is pale pink with two pink shaped buttons on the chest.
Home
She lives in a garden with fountains.
Trivia
Gallery
Main article: Mari Golden Petals/Gallery