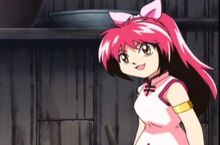 Mariah Wong is a beautiful young girl and she is the only female member of the White Tigers. She is also the childhood friend of Ray Kon and the younger sister of Lee Wong. She grew up in the White Tiger Village high in the mountains isolated away from society so it did not posses any modern technologies, such as computers or cell phones.

She spent most of her childhood doing her chores around town along with Gary Tan, Kevin Cheng her brother Lee and his best friend Ray whilst practicing bey blading.
She is an Arabian Princess
In Mariahstasia she played Anastasia/Anya
She is an orphan who happens to be the lost Russian Princess
In Frozen, she played Princess Anna
She is the female penguin and the Hero's love interest
She is the Indian Princess
She is the Chinese girl
She is a mermaid Princess
In Mariahlina, she played Thumbelina
She is a tiny girl
She is a waitress
She is a princess
In Tangled she played Rapunzel
She is a princess
In The King and I, she played Tuptim
She is a servant girl
she is a villager girl
She is a fair princess
She is a Princess under a spell
Gallery:
Community content is available under
CC-BY-SA
unless otherwise noted.