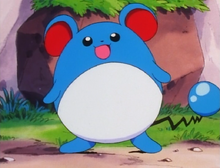 Marill (Japanese: マリル Maril) is a dual-type Water/Fairy Pokémon. Prior to Generation VI, it was a pure Water-type Pokémon. It evolves from Azurill when leveled up with high friendship and evolves into Azumarill starting at level 18.
Voice Actors:
Kayzie Rogers - English
Mika Kanai - Japanese
He is a fly.
User Tracey:
Chip
Courage
Wade Load
Dr. Dawson
Tigger
Ron Stoppable
Genie
Baloo
Andrew
User Wilhomena:
User Lyra:
User:Lol
Andie
Ca
Chichia
Caroletta
Duches
Sarabi
Cindy Bea
Bunny Bravo
Miller
Gallery: