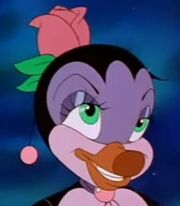 Marina is a female penguin from The Pebble and the Penguin.
She is a female crow
She is an ogre
She is a mouse
Marina played Dory In Finding Erik
She is A Blue Fish
She is a chipmunk
Marina Played In Pokemon (15Movies Style)
She is ????
She is a Pokemon trainer
Marina Played Sailor Moon In

Sailor Marina
She is a princess.
Portrayal
Gallery