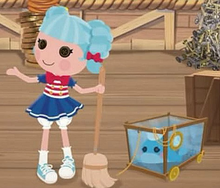 Marina Anchors is the tidiest and most organized sailor in all of Lalaloopsy Land. She's super neat, and she always keeps everything ship shape. She also loves the ocean, even though she can't swim. Marina is the older sister of the first little brother, Matey Anchors. Her name is based off of basins of water where small boats can dock, as well as the anchors that can keep them from drifting away!
About Marina
Appearance
Marina Anchors is a fair skinned girl with carnation pink cheeks and the typical black eyes. She has sky blue hair worn in curled, ringlet pigtails held with scarlet red ribbons and she has a tuft of bangs in the center.
She wears a scarlet red and white striped top with indigo puffed sleeves, a big crimson red bow at her neck, and four buttons on the front. She wears a pleated silk skirt that is royal blue with a white stripe and white bloomers underneath. She wears normal white socks below the knee and ice blue and white tennis shoes.
Pet
Marina has a sky blue baby whale for a pet. It wears a white sailor's cap.
Home
Main article: Marina's lighthouse Marina lives in a shanty house atop a large life raft just off the shore. A fishing net decorates her roof and there is a spyglass on deck so she can see who is coming from miles away. Attached to her house is a red and white striped lighthouse to help ships coming in at night.
Trivia
June 8th is World Ocean Day.
Marina is the only Lalaloopsy with a brother so far.
She shares her birthday with Cake Dunk 'N' Crumble.
In the Julius Jr episode "Duckyitis," the swimsuit that Sheree wears is similar to Marina's outfit.
Gallery
Main article: Marina Anchors/Gallery