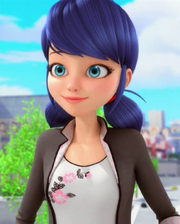 Marinette Dupain-Cheng (aka Ladybug) is a main protagonist from the CGI Series. Miraculous: Tales of Ladybug & Cat Noir. She transforms into Ladybug with her kwami named Tikki.
In "Ladybug", after being expelled from school, she is nearly akumatized by Scarlet Moth into Princess Justice. However, her akumatization is interrupted because of Nathalie Sancoeur's illness and it is never fully completed.
Trivia
Marinette's hair color is a homage to old comic books that would use blue highlights on black hair.
Following

Kagami

, Marinette is the only other person that knows that Adrien has a crush on another girl. But like Kagami she is unaware that Adrien is in love with Ladybug, who is her alter ego.
It is revealed that Marinette is a penpal to Rarity casue they share one thing in common: fashion.
Her responsibilities as a superhero not only include fighting akumatized villains but also patrolling and many other things.
The name Marinette means "little Mary" (formed from the modified Marion + the French diminutive suffix -ette) in French, which is likely a reference to the ladybug's common name, as well as its name across many cultures, originating from the Biblical character Mary, also known as "Our Lady."
Although not having any romantic feelings towards Cat Noir, in the webisode "Cat Noir as seen by Marinette", Marinette reveals that she's aware he may have a crush on her and she admits she might have given him a chance if Adrien hadn't been around.
In the webisode "New Powers", Marinette mentions out of all the new abilities she has tried so far, her favorite time was when she tried Cat Noir's powers as Lady Noir.
The "Ladybug Vision" shown after using her Lucky Charm is not a superpower, but instead a tool to allow the viewer to see what will happen.
The same rule also applies to Marinette if anyone discovered her identity, then she have to give up

Tikki

and the Ladybug Miraculous.

According to

Master Fu

, Marinette is the first person in history to be able to mentally and physically handle wearing sixteen Miraculouses at once, something that even makes

Wayzz

recognizes that she is special.

In "Mr. Pigeon", Marinette's secret place of inspiration is the Trocadéro.
In "Stormy Weather", Marinette's infatuation with Adrien is revealed to even include plans for a family. The names of their supposed children are Hugo, Emma, and Louis—all traditional French names. Aside from these, she also appears fond of dogs and especially hamsters.
Marinette is the first person to become a guardian in almost 200 years.

She is the second known person to become a Miraculous holder and a Guardian following Master Fu.

Lady Noir's name translates to "Black Lady".
Gallery