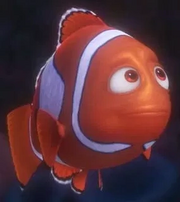 Marlin is a clownfish from Finding Nemo.
Voice Actors:
Albert Brooks (flims) & Jess Harnell (video games & attractions) - English
Noritake Kinashi - Japanese
Herman Lopez - Mexican Spanish
Christian Tramitz - German
Julio Chaves - Brazilian Portuguese
Pierre Auger - Canadian French
Hwan Jin Kim - Korean
Rui Paulo - European Portuguese
Leif Andrée - Swedish
Penko Rusev - Bulgarian
Király Attila - Hungarian
Tom Pöysti - Finnish
Troels Lyby - Danish
Theodore Atheridis - Greek
José Luis Gil - European Spanish
Saša Anočić - Croatian
František Výrostko - Slovak
Lior Zohar - Hebrew
Mahmoud Lozi - Arabic
Trond-Viggo Torgersen - Norwegian
Krzysztof Globisz - Polish
Luca Zingaretti - Italian
Franck Dubosc - European French
Jeroen van Koningsbrugge - Dutch
Stany Crets - Flemish
George Ivașcu - Romanian
Yan Tsapnik - Russian
Maxim Kondratyuk - Ukrainian
Marlin played Edward in Nemo & Friends
Marlin played James in SpongeBob & Friends
He's a red engine
Marlin played Mufasa in The Fish King
He is a lion
Marlin played Sinbad in Marlin Legend Of The Seven Seas
Marlin played Shrek in Marlin (Shrek)
He is an ogre
Portrayals:
In Finding Scamp he is played by Tramp.
In Finding Max (1701Movies Style) he is played by Ash Ketchum.
In Finding Pinga he is played by Pingu
In Finding Mowgli he is played by Pacha
In Finding Kion he is played by Simba
In Finding Simba he is played by Mufasa
In Finding Pinocchio he is played by Eugene "Flynn Rider" Fitzherbert
In Finding Berlioz he is played by Thomas O'Malley
In Finding Percy he is played by Thomas the Tank Engine
In Finding Oliver he is played by Danny
In Finding Bambi he is played by The Great Prince of the Forest
In Finding Tweety he is played by Red 
In Finding Mistoffelees and Finding Jennyanydots he is played by Bustopher Jones
In FInding Lucas the spider he is played by Flik
In Finding Hi-5 he is played by Skipper
Gallery:
Community content is available under
CC-BY-SA
unless otherwise noted.