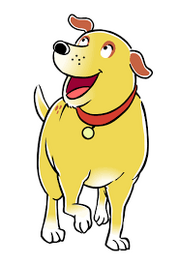 Martha Grace Lorraine is the titular, and main character of the book series Martha Speaks as well as the animated PBS Kids TV series of the same name. Martha had started to speak after eating some alphabet soup.
Personality
Martha is average, cute, kind, friendly, adorable, sweet, precious, smart, intelligent, adept, honest, comedic, silly, cuddly, expressive, very talkative and curious. She is also very optimistic and friendly. She can be kinda, and bit a mean, rude, and grumpy sometimes but she always means well.
.

Appearance
Martha is a fairly, and literal large yellow and orange mutt who looks like an Labrador mix. At only 6-years-old, she has orange ears and a white muzzle. She wears a red collar. Her paws are white. She has short legs.
She's a husky
She's a puppy
Gallery
Fanart of Martha