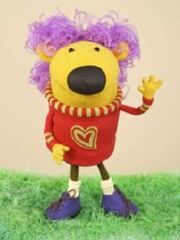 Mary is a main character in Jack's Big Music Show.
Description
Mary is Jack's best friend. She mostly plays the accordion, but loves to pick up any other instrument and dabble with it. She knows how to play some things on the harp, and has a soft spot for opera music, as shown in Space Opera. She's been Jack's neighbor ever since they were born. Mary and Jack go together like "rock and roll." Mary is the calmer and more practical one, but she's always ready for adventure. Mary's love of music and knack for problem-solving makes her a perfect match for Jack.
Looks
Mary is yellow with light purple hair. She wears a red shirt with a yellow and red heart design in the center.
Appearances
Mary appears in every episode of Jack's Big Music Show. Her first appearance was in Little Bad Wolf and her last appearance was in Jack and the Beanstalk.