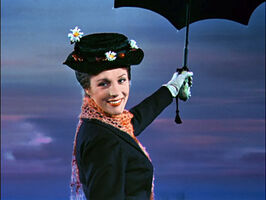 Mary Poppins is the female protagonist from Mary Poppins.
She played herself in the Clash of the Links film series
Very much like how she appeared for the first time round, she is again portrayed by Julie Andrews, again a female protagonist, but this time round, an partner to both Bert and CD-I Link.
She is a red fairy
She played Fairy Godmother in Annarella
She is a elephant
She is a kangaroo
She is a willow tree
She is a gargoyles
She is a voodoo queen of the bayou
Trivia
She was portrayed by Julie Andrews who also voiced Queen Lillian in the Shrek franchise.
Gallery
Community content is available under
CC-BY-SA
unless otherwise noted.