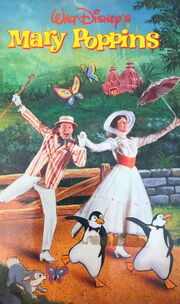 Mary Poppins is a 1999 VHS.
Chapters:
Opening Credits
Cherry Tree Lane
Mrs. Banks' Cause ("Sister Suffragette")
Tidying The Nursery With The Help Of "A Spoonful Of Sugar"
Time For An Outing
A "Jolly Holiday" In The Country
Mary And Bert Stop For Tea
Mary's Winning The Race Is Simply "Supercalifragilisticexpialidocious"
Mary Sings The Children To Sleep ("Stay Awake")
A Visit To Uncle Albert's ("I Love To Laugh")
Mr. Banks Has A Few Words With Mary Poppins
Little Things That Are Quite Important ("Feed The Birds")
The Chimney Sweeps "Step In Time"
A Phone Call From The Bank
Mr. Banks Is Discharged
"Let's Go Fly A Kite"
Mary Poppins Departs
Closing Credits
Previews:
Green FBI Warnings
Walt Disney Home Video 1992 Logo
Coming Soon to Theaters bumper
Toy Story 2 trailer
Disneyland Paris 1998 trailer
Coming Soon to Own on Videocassette bumper
Madeline Lost in Paris trailer
The Lion King 2: Simba's Pride trailer
Collect Mickey's Ears commercial (Valid until August 8, 1999)
Feature Presentation 1991 bumper
Walt Disney Home Video 1986 Logo
Walt Disney Pictures Logo
Buena Vista Logo
Printdate:
February 17, 1999.
Community content is available under
CC-BY-SA
unless otherwise noted.