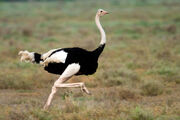 The Masai ostrich (Struthio camelus massaicus), also known as the East African ostrich is a red-necked subspecies variety of the common ostrich and is endemic to East Africa. It is one of the largest birds in the world, second only to its sister subspecies Struthio camelus camelus. Today it is hunted and farmed for eggs, meat, and feathers.
Roles
Portrayals
Gallery
Is a Crocodile a Reptile
Books
Community content is available under
CC-BY-SA
unless otherwise noted.