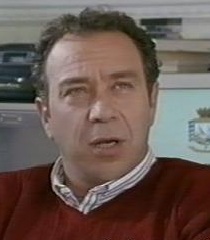 Massimo Corvo (July 9, 1959) is an Italian actor and voice actor from Rome, Italy. He was the most active between the late 1980s and early 2000s. His name translates to "Maximum Crow" in English. He is best known for dubbing over Laurence Fishburne in his role of Morpheus in the Matrix trilogy, Tony Todd in the Candyman films, and Harvey Keitel as Mister White in Quentin Tarantino's Reservoir Dogs. He has also dubbed over a number of animated roles, including the Beast in Beauty and the Beast, Shan-Yu in Mulan, Pete in Goof Troop, and Jafar in Aladdin. In addition, he dubs over Gendo Ikari in the anime series Neon Genesis Evangelion. Other actors he dubs over are Sylvester Stallone (replacing the late Ferruccio Amendola), Jean Reno, Bruce Willis, Patrick Bergin, Tom Sizemore, Vin Diesel, Forest Whitaker, and Jeff Bridges.
Voices:
Jafar - Aladdin
Beast - Beauty and the Beast
Thrax - Osmosis Jones
Steele - Balto
Principal Seymour Skinner - The Simpsons
Owl - Winnie the Pooh
Bruce, Father Frankenstein - The Monster Clubhouse
Community content is available under
CC-BY-SA
unless otherwise noted.