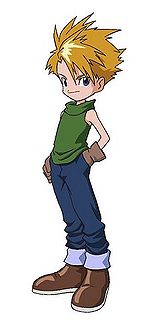 Matt is a character from Digimon
Portrayals
S6E13 Breaking News, a former news executive producer for News5 (WCNU in real series) and Jane Everett's (portrayed by Sarah Goodman [Flint The Time Detective]) mentor, which in the evening of November 1988, he strangled her to death using the scarf she's wearing at that time. The main motive he killed Jane is because he was trying to stop Jane from exposing her story that she found out involving a plastic company who was responsible for their former employees for using asbestos as one of their chemical ingredients which causes cancer and not giving them compensation and health benefits, and since he was involved in this illegal activity after he was called by a manager of former Shaw Plastics offering him a big bucks, he wants to get the said footage caught on tape just to keep the said event a secret. He was then arrested after the homicide team reopened Jane's case. His present counterpart was portrayed by Numbuh 2 / Hogarth "Hoagie" P. Gilligan, Jr (2009).
Gallery
Community content is available under
CC-BY-SA
unless otherwise noted.