Matthew Micahs is a cheetah and the young leader of the 547 Phase Awesomeness.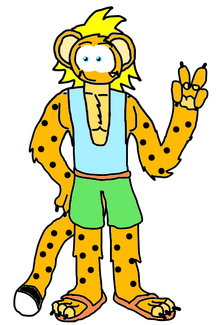 Matthew played Michelangelo in Atypical (The Lego Movie Animash Parody)
He is one of the Teenage Mutant Ninja Turtles (TMNT)
Matthew played Juane-Tom in Just Call It A Day (A Gay Purr-ee Parody)
He is a cat and the lover of Mewsette 
Matthew played Gru in Awesome Me, Fourscore: Polar's Wild Adventure (Awesome Me 2), and Awesome Me 3: Matthew's Destiny
He is a former villain and Anti-Villain League detective
Matthew played Kris Kringle in Backtracked: A New Year's Adventure
He is the ordinary version of Santa Claus, as revealed in Hoops and Yoyo Ruin Christmas.
He is a conspiracy theorist who reveals the truth about the end of the world to Jackson.
Matthew played Frank in Animated Party (Sausage Party)
He is a sausage and the boyfriend of Brenda; he's also the one who first sets out to learn the truth about his existence and purpose.
Trivia
Matthew is considered not just the leader of the 547, but the ultimate leader. This is shown in Furries when Kovu

runs into him after he freezes Venezuela and Pavilion, who tried to escape with Sarabi's prized crown.
Even as a leader, Matthew can feel defeated easily, as shown in Backtracked, Animated Party, and Fourscore. 
He is close friends with Kiara, Nick, and Bearen., as well as Kovu, Jenna, and Rainbow Dash. 
Matthew often winds up rivaling with Bearen in proving himself a leader, as shown in Just Call It A Day.
Matthew was the love interest of Connie "Ciad" Peterson the Leopard (and vice versa) until Fourscore, when they married. The only exception to this was in the non-canon parody Animated Party, where he started a new relationship with Danielle Daniels the Fox after Ciad unexpectedly passed away. He also has three adopted "daughters": Rita, Judy Hopps, and Nakisha Pridelander.
He is the "business" partner of Jane Wolfe, a scientist gray fox and Samson's husband.
Johnny J. Johnson is also very close to Matthew; he is even considered Matt's "runner-up", as shown in Fourscore. Samson Maxwells also proves to be Matthew's "right-hand man" and often helps to stem situations that would otherwise wear Matthew out. 
In 2012 (Phase Awesomeness), Matthew is shown to be both forward-thinking and very bold in the face of danger. In the Awesome Me series and Animated Party, however, he is shown to be pretty brash and absolute about what he believes in at times, although that is quickly checked by his friends eventually each time.  
Community content is available under
CC-BY-SA
unless otherwise noted.