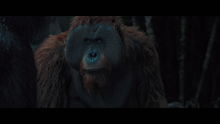 Maurice is an evolved orangutan and a former circus ape who resided at the San Bruno Primate Shelter with Cornelia, Rocket and Buck. He watched over Caesar and discovered his intelligence, hence learning about his ability to communicate with sign language. Seeing Caesar's potential, Maurice befriended him becoming Caesar's best and most trusted friend. During the Ape Rebellion, Maurice served as the second of Caesar's lieutenants, the first being Rocket. Over the next ten years, Maurice remains loyal to Caesar and serves as the colony's overseer and as a teacher to the new generation of apes.
Portrayals:
Gallery:
Community content is available under
CC-BY-SA
unless otherwise noted.