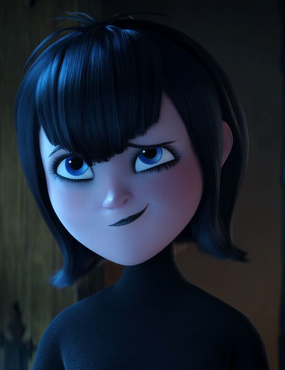 Mavis Dracula (voiced by Selena Gomez as an adult in the films, Sadie Sandler as a child in the first film, Bryn McAuley in the TV series) is the only daughter of Count Dracula and Martha. She is the wife of Johnny and the Friends of Diego. She is shown to be more open to the human world than her father, as she knows how to use technology (cell phone, video chat, email) and is excited to see the world outside Hotel Transylvania and speaks with a New York accent.
Voice Actors
Selena Gomez (films)
Bryn McAuley (TV series)
She is the Ridgway family's new puppy.
Mavis played Padme in Star Wars (JediObi-Wan9 style)
Mavis played Judy Hopps in Zootopia (JediLuke9 style)
Mavis played Draculaura in Xiaolin High
She is a Mermaid
She is a Rat
She is an ogre.
Mavis played Gru in Despicable Me Series (Female Style)
She is a smilodon
She is an octopus
She is Sinbad's love interest
Mavis played Lightning McQueen in Females (Cars) Trilogy
She is a race car
Mavis played Marty the Zebra in Madagascar (Gender Swap)
She is a zebra
She is a woolly mammoth
Mavis played Jailbreak in ​​​​​​

The Hybrid Movie (The Emoji Movie)
She is a emoji
She is a panther
Mavis played Esmeralda in The Despicable Of Norte Dame (TheTureDisneyKing Style)
He is a Gypsy Girl
Mavis played Bolt in Mavis (Bolt)
She is the main protagonist
Gallery: