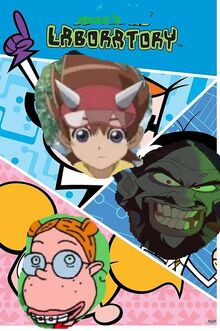 DinosaurKingRockz's TV spoof of Dexter's Laboratory (1996-2003). It will appear on YouTube in the near future.
Cast:
Dexter - Max Taylor (Dinosaur King)
Dee Dee - Eliza Thornberry (The Wild Thornberrys)
Mandark - Rasputin (Anastasia)
Dexter's Dad - Spike Taylor (Dinosaur King)
Dexter's Mom - Aki Taylor (Dinosaur King)
Major Glory - Ash Ketchum (Pokemon)
Valhallen - Tracey Sketchit (Pokemon)
The Infragible Krunk - Brock (Pokemon)
Monkey - Spike (The Land Before Time)
Agent Honeydew - Anna (Frozen)
Commander - King Triton (The Little Mermaid)
Mee Mee - Serena (Pokemon)
Lee Lee - Emily Elizabeth Howard (Clifford the Big Red Dog)
Seasons:
Movie:
Short Films:
Segments:
Trivia:
This series will be in loving memory of Christine Cavanaugh (August 16, 1963 - December 22, 2014).
Gallery:
Community content is available under
CC-BY-SA
unless otherwise noted.