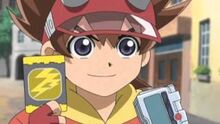 Max Taylor is the son of a paleontologist Dr. Taylor. He is the unofficial leader of D-Team. Max is mostly seen wearing a visor that has Triceratops horns which double as flashlights. He is very brash, impulsive and does not generally think his actions through. He deeply cares for dinosaurs and hates how the Alpha Gang abuses them. His partner is a Triceratops called Chomp, which he named because he chomps away on anything he can get his mouth on. Besides having Chomp, Max owns some most of the lightning and water wild dinosaurs. Max has a crush on Zoe.
Voice Actors:
Veronica Taylor - English
Megumi Matsumoto - Japanese
Csongor Szalay - Hungarian

Carlo Vázquez

- Spanish
Max Taylor played Scooby Doo in Max Taylor series
Max Taylor played Fievel Mousekewitz in An Child Tail
Max Taylor played Buzz Lightyear in Child Story
S5E12 Sabotage, he was an electric store employee which was been killed instantly by a music box bomb way back post christmas of the year 1999, and also the first victim by the mentioned incident. His ghost will be seen by his killer Alessandro Rosillini (portrayed by Koji Minamoto [Digimon Frontier]), looking dissapointed at him when Alessandro finally arrested.
Portrayals:
Gallery: