m

Tags: apiedit, Visual edit

(Adding categories)

 

(4 intermediate revisions by one other user not shown)
Line 7:
Line 7:
 

== Portrayals: ==

 

== Portrayals: ==

 

* In [[Kit's Laboratory]] she is played by [[Nellie the Elephant (character)|Nellie the Elephant]].

 

* In [[Kit's Laboratory]] she is played by [[Nellie the Elephant (character)|Nellie the Elephant]].

 
+

* In [[Max's Laboratory]] she is played by [[Serena (Pokemon)|Serena]].

 

* In [[Tori's Laboratory]] she is played by [[Sena]].

 

* In [[Tori's Laboratory]] she is played by [[Sena]].

 
+

* In [[Kovu's Laboratory]] she is played by [[Amy Lawrence]].

 
+

* In [[David's Laboratory]] she is played by [[Buttercup]].

 
+

* In [[Marucho's Laboratory]] she is played by May.

 
+

* In [[Scrappy's Laboratory]] she is played by Georgette.

 
+

* In [[Ron's Laboratory]] she is played by Iris.

 
+

* In [[Doctor N. Gin's Laboratory]], She is played by [[Rainbow Dash]].

 
 
 

== Gallery: ==

 

== Gallery: ==

Line 25:
Line 32:
 

[[Category:Black Haired Characters]]

 

[[Category:Black Haired Characters]]

 

[[Category:African American Characters]]

 

[[Category:African American Characters]]

 
+

[[Category:Sassy Characters]]

 
+

[[Category:Annoying Characters]]
---
Latest revision as of 02:50, 6 April 2018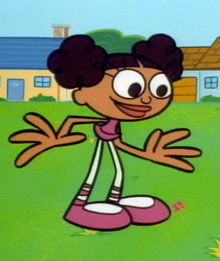 Mee Mee is one of Dee Dee's two best friends alongside Lee Lee. She likes the same things as Dee Dee and Lee Lee and often causes havoc in Dexter's lab with them or play with the Pony Puff Princesses they love so much! Mee Mee was voiced by Kath Soucie in her initial appearance and Kimberly Brooks in further episodes.
Voice Actors:
Kimberly Brooks - English
Portrayals:
Gallery:
Community content is available under
CC-BY-SA
unless otherwise noted.