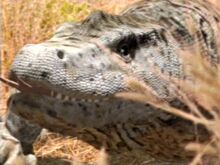 Megalania
(
Megalania prisca
 or 
Varanus priscus
) is an extinct very large goanna or monitor lizard. They were part of a megafaunal assemblage that inhabited southern Australia during the Pleistocene. They seem to have disappeared between 40,000 and 30,000 years ago. The first aboriginal settlers of Australia might have encountered them.
Roles
Gallery
See Also
Community content is available under
CC-BY-SA
unless otherwise noted.