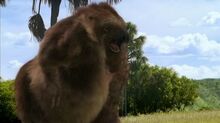 Megatherium was a genus of elephant-sized ground sloths endemic to South America that lived from the late Pliocene through the end of the Pleistocene. Its size was exceeded by only a few other land mammals, including mammoths and Paraceratherium.
Roles
Gallery
Walking With Beasts A Prehistoric Safari
See Also
Community content is available under
CC-BY-SA
unless otherwise noted.