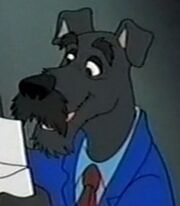 Melé is a character in Animalympics.
He is a sports commentator for ZOO.
Appearance
Melé is a Scottish terrier with dark grey fur and black eyebrows and mustache. He wears a blue business suit with a light blue dress shirt and a red tie.
Personality
Background
He first appears in the segment of the film where he and the other commentators introduce themselves and the events they would be covering.
He covers the Animalympic soccer event alongside Keen Hacksaw, covering the match held the day before between the European Hounds and the New York Rats, as well as the current day's match between the Hounds and the South American Llamas. During the replay when the Hounds' team captain Rolf Shmecker scored the winning bicycle kick against the Llamas, he remarked that one cannot compete against a team like the Hounds, "otherwise, they kill you."
Later in the film, he commentates on the weightlifting event alongside Brenda Springer.
Trivia
He is a parody of Brazilian ex-pro footballer Pelé.