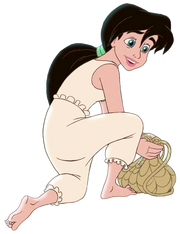 Princess Melody is the nauseatingly adorable, regally and unbearably beautiful and very attractive 12 year old tomboy daughter of Eric and Ariel and the main protagonist in The Little Mermaid 2: Return To The Sea. Throughout most of the movie, she wore pretty frilly white calf-length pantalettes and a lovely matching camisole with a little green bow.
She played as Rosy's Granddaughter in Simbalto
She is a granddaughter
She is Rat and Herones of NIMH
She is a Fire Nation Nobel
She played as Wendy Darling in Danny Pan
She is a girl
She is a boy
She is a waterbender
She is Cinderella's grumpy and cruel stepsister
She played as Mai in Avatar The Last Airbender Nuclearzoen Human Style
She is a Fire Nation noble
She is a Girl
She is a arabian princess
She Played Shrine Maiden In Sailor Velma
She is d
She Played Sailor Venus In Sailor Dawn
She is the 5th Sailor Scout
She Played In Pokemon (1961Ruzel Style)
She Played Shrimp In Animated Tale (Shark Tale) (TheTureDisneyKing)
She Played Boo in Animals Inc (Dragon Rockz Style) And Kingdom Hearts 3 (Dragon Rockz Style)
She is a tomboy
Portrayals
Gallery:
Community content is available under
CC-BY-SA
unless otherwise noted.