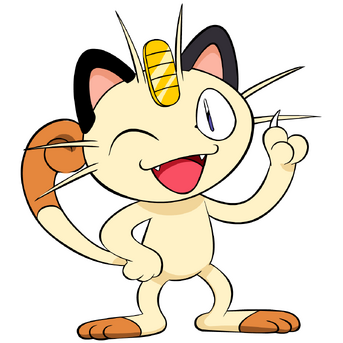 Meowth is the main antagonist of the Pokémon franchise, one of the members of Team Rocket and the arch-enemy of Ash's Pikachu.
Voice Actors:
Nathan Price (Episodes 2-31) - English
Maddie Blaustein (Episodes 18, 32-419) - English
Carter Cathcart (Episodes 420-present)
Inuko Inuyama - Japanese
Pietro Ubaldi - Italian

Nessym Guetat

- French
In Seong O - Korean
Ido Mosseri - Hebrew

Dor Srugo

 - Hebrew
Meowth played as Singing Pirate with Accordion in Leo Pan
He is a Pirate who Sings on his Accordion.
He is a Python.
He is a tiny owl
Meowth played as Trigger in Basil Hood
He is a Vulture.
He is a Bat.
He is a Brain inside an Android's Body.
He is a Sorcerer.
He is a Frog.
He is a god
He is Fat
He is a Franceh Buffoon and Gaston's Sidekick
Meowth played Prince John In Tori Hood
He Is a Super Villian
Meowth played Tom Cat in Meowth and Pikachu: The Movie,

Meowth and Pikachu: The Magic Ring

,

Meowth and Pikachu: Blast Off to Mars

,

Meowth and Pikachu: The Fast and the Furry

,

Meowth and Pikachu: Shiver Me Whiskers

,

Meowth and Pikachu: A Nutcracker Tale

,

Meowth and Pikachu Meet Sherlock Holmes

, Meowth and Pikachu & The Wizard of Oz,

Meowth and Pikachu: Robin Hood & His Merry Mouse

,

Meowth and Pikachu's Giant Adventure

,

Meowth and Pikachu: The Lost Dragon

and

Meowth and Pikachu: Spy Quest
He is a crafty gray pussycat
He is a Alien-Like Whale
He Played Prince John In Tori Hood
He is a Lio
He Played Padraic In The Great Pikachu Detective
He is a Mouse
User Tyson:
Gallery: