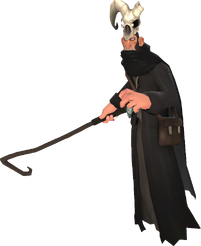 Merasmus the Magician, or simply Merasmus (also referred to as wizard, magician, or "idiot in a dress") is an important character in the Team Fortress 2 Storyline. Merasmus has several appearances or references in the comics, hidden pages, and game maps. He has more roles in game play than any other non-player character.
In the Team Fortress 2 Storyline, Merasmus has a connection with Demoman in the origin of MONOCULUS; however, he most often appears as Soldier's long suffering former roommate. His appearances in comics or other media are usually related to releases of paranormal or haunted Halloween maps, with Soldier's actions generally being the reason the mercenaries end up fighting there.
In game play, not only does Merasmus (stylized as MERASMUS!) make an appearance as the boss the players must fight in Ghost Fort and Brimstone, he is also the owner and host of the Carnival of Carnage, a summoner of both MONOCULUS in Eyeaduct and the Horseless Headless Horsemann in the Bumper Car games, and the keeper and wielder of Bombinomicon, which itself appears on multiple maps
Actors
Community content is available under
CC-BY-SA
unless otherwise noted.