TheCartoonMan12's Movie Spoof of "Pocahontas." It appeared on YouTube on April 29, 2015.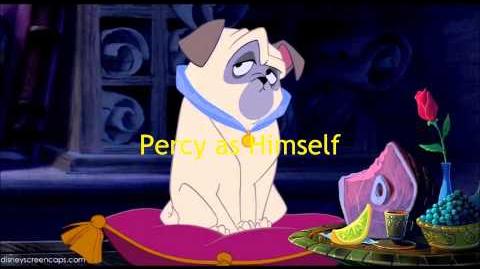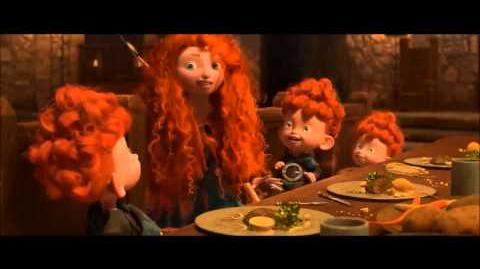 Cast:
Pocahontas - Merida (Brave)
John Smith - Bob Parr/Mr. Incredible (The Incredibles)
Governor Ratcliffe - Huxley (The Adventures of Elmo in Grouchland)
Meeko as Himself
Flit as Himself
Percy as Himself
Chief Powhatan - King Fergus (Brave)
Grandmother Willow - Sawyer (Cats Don't Dance)
Nakoma - Andie (The Nut Job)
Kocoum - Lightning (Total Drama Series)
Kekata - Rubato (Marvelous Musical Mansion)
Thomas - Surly (The Nut Job)
Wiggins - Kyle (Fanboy and Chum Chum)
Ben and Lon - Bob and Larry (VeggieTales)
Indians - Various Humans
Scenes:
Meridahontas Part 1 - "The Virginia Company"
Meridahontas Part 2 - The Storm
Meridahontas Part 3 - Main Title/"Steady as the Beating Drum"
Meridahontas Part 4 - Merida's Appearance/King Fergus Talks About Lightning
Meridahontas Part 5 - "Steady as the Beating Drum" (Reprise)/"Just Around the Riverbend"
Meridahontas Part 6 - Merida Went to see Sawyer/"Listen With Your Heart"
Meridahontas Part 7 - Arrived in Virginia/Bob Parr/Mr. Incredible Meets Meeko and Flit
Meridahontas Part 8 - The Humans Know About The Visitors/Huxley Called The New Land Jamestown
Meridahontas Part 9 - Mine, Mine, Mine
Meridahontas Part 10 - Bob Parr/Mr. Incredible Meets Merida
Meridahontas Part 11 - The Humans Attack
Meridahontas Part 12 - Unusual Words
Meridahontas Part 13 - "Colors of the Wind"
Meridahontas Part 14 - Back at Camp
Meridahontas Part 15 - Bob Parr/Mr. Incredible Sees Merida Again
Meridahontas Part 16 - Bob Parr/Mr. Incredible Meets Sawyer
Meridahontas Part 17 - The Warriors are Here/Bob Parr/Mr. Incredible Argued with Huxley
Meridahontas Part 18 - Merida Runs Into the Woods/Surly Followed Bob Parr/Mr. Incredible
Meridahontas Part 19 - Andie Goes for Help/Meeko & Percy Fight/Sawyer Shows Everyone the Ripple
Meridahontas Part 20 - Merida and Bob/Mr. Incredible Kiss/Lightning Tries to Kill Bob/Mr. Incredible
Meridahontas Part 21 - "If I Never Knew You"
Meridahontas Part 22 - "Savages"/Merida Remembers her Dream
Meridahontas Part 23 - "Savages" (Reprise)/King Fergus Listens with his Heart/Huxley Shoots Bob Parr
Meridahontas Part 24 - "I'll Always Be With You"
Meridahontas Part 25 - End Credits
Movie used:
Clips from movies & TV show used:
Fish Hooks
Yogi's Ark Lark
The Nut Job
The Incredibles
VeggieTales
The Adventures of Elmo in Grouchland
Fanboy and Chum Chum
My Little Pony: Friendship is Magic
The Best Pals Hand Franchise
Quest for Camelot
Back at the Barnyard
The Penguins of Madagascar
We're Back! A Dinosaur's Story
The Looney Tunes Show
Littlest Pet Shop
A Goofy Movie
Jonah: A VeggieTales Movie
A Bug's Life
Hey There, It's Yogi Bear
Tom and Jerry: The Movie
Ed, Edd n Eddy
Bedknobs and Broomsticks
Phineas and Ferb
The Suite Life on Deck
Marvelous Musical Mansion
Jimmy Neutron
Little Einsteins
Brave
Wreck-It Ralph
The Road to El Dorado
My Life as a Teenage Robot
Total Drama Series
Cats Don't Dance
The Fairly OddParents
The Hunchback Of The Notre Dame
Tom and Jerry
The Simpsons Movie
Camp Lazlo
Over The Hedge
SpongeBob SquarePants
Family Guy
Brandy & Mr. Whiskers
The Lion King 1 1/2
Home on the Range
Garfield Series
Tangled
Best Pals Hand Toons
VeggieTales in the House
Open Season
Cloudy with a Chance of Meatballs
Despicable Me 1 & 2
The Pirates Who Don't Do Anything: A VeggieTales Movie
Rio
Kung Fu Panda
Darkwing Duck
Mickey, Donald, Goofy: The Three Musketeers
Shrek
The Angry Birds Movie
Ed, Edd n Eddy's Big Picture Show
T.U.F.F. Puppy
Dave The Barbarian
The Sword in the Stone
The Good Dinosaur
Ice Age
Yin Yang Yo
Free Birds
Noah's Ark (2007)
Larryboy: The Cartoon Adventures
Oliver & Company
The Loud House
Rocket Monkeys
The Lorax (2012)
Community content is available under
CC-BY-SA
unless otherwise noted.