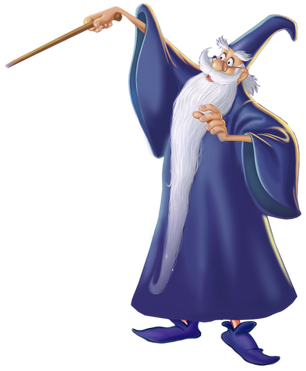 Merlin is a wizard from The Sword in the Stone.
He is a Toymaker Mouse
Merlin played Cornelius in Once Upon a City
He is a badger
He is a father
He is a Talking Dolphin
He is a Fire Nation General
He is a butler
He is a Sultan
Merlin played Old Jafar In Tarladdin
He is a Old Man
Merlin played The Genie In Wartladdin
He is a Genie
He is a Gnome
He is a Wizard
He is a Toy Maker
He is a crazy old Earthbender
Merlin played Mr. Stork In Cody (Dumbo)
He is a stork
Merlin played Old Beggar Robin Hood in Dimitri Hood
He is an old man
He is a dodo
He is a dwarf
Merlin played King Neptune in the Todbob Foxpants Movie
He is is a king
Merlin played Mung Daal in Gumball (Chowder)
Portrayals
Gallery
Portayals:
Trivia
His appearances in the Stephen Squirrelsky and Friends' Movie Spoof Travels are Madagascar and Sleeping Beauty and will even be in more movie spoof travels.
Community content is available under
CC-BY-SA
unless otherwise noted.