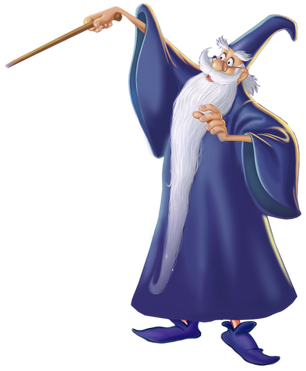 Merlin is a wizard from The Sword in the Stone.
He is a Toymaker Mouse
Merlin played Cornelius in Once Upon a City
He is a badger
He is a father
Merlin played Lord Rogers in

The Hen Princess
Merlin played Old Settler in

Melody Time (160 Movies Style)
He is a Talking Dolphin
He is a Fire Nation General
He is a butler
He is a Sultan
Merlin played Old Jafar In Tarladdin
He is a Old Man
Merlin played The Genie In Wartladdin
He is a Genie
He is a Gnome
He is a Wizard
Merlin played Uncle Drosselmeyer in

The Reindeer Prince (1990)
He is a Toy Maker
He is a crazy old Earthbender
Merlin played Mr. Stork In Cody (Dumbo)
He is a stork
Merlin played Old Beggar Robin Hood in Dimitri Hood
He is an old man
He is a dodo
He is a dwarf
Merlin played King Neptune in the Todbob Foxpants Movie
He is is a king
Merlin played as himself in Danny (Shrek) and the

Nick Wilde (Shrek) film series
Merlin played Mung Daal in Gumball (Chowder)
He is a Jedi
Merlin Plays Kekata in

Rukiahontas
He is a Indian
Merlin Plays Uncle Drosselmeier in

The Reindeer Prince (1990)
He is a Hans's Uncle
Portrayals
Gallery
Portayals:
Trivia
His appearances in the Stephen Squirrelsky and Friends' Movie Spoof Travels are Madagascar (FamousImagination50's Style), Sleeping Beauty (Justin Quintanilla's Style), Aurorastasia, Despicable Me (Justin Quintanilla's Style), We're Back!: A Jungle Animal's Story, Jimmynocchio, and The Wizard of Oz (Uranimated18's Style) and will even be in more movie spoof travels.