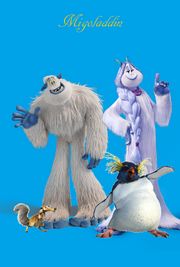 a spoof of Aladdin.
Cast
Aladdin - Migo (Smallfoot)
Jasmine - Meechee (Smallfoot)
Genie - Lovelace (Happy Feet)
Jafar - Toad (Flushed Away)
Iago - Junior (Storks)
Abu - Scrat (Ice Age)
The Magic Carpet - Soren (Legend of the Guardians: The Owls of Ga'Hoole)
The Sultan - Stonekeeper (Smallfoot)
Rajah - Samson (The Wild)
Razoul - Lord Business (The Lego Movie)
Razoul's Guards - Skeletrons and Micro Managers (The Lego Movie)
The Peddler - Fear (Inside Out)
The Cave of Wonders - Himself
Prince Achmed - The Grinch (2018)
Gazeem The Thief - Quasimodo Wilson (Hotel Transylvania)
Omar The Melon Seller - Carl Fredricksen (Up 2009)
Farouk The Apple Seller - Dave (Penguins of Madagascar)
Elephant Abu - Horton (Horton Hears a Who!)
Old Man Jafar - Charles Muntz (Up, 2009)
Snake Jafar - Von Talon (Valiant)
Genie Jafar - Yokai (Big Hero 6)
Three Balcony Harem Girls - Various Female Characters
Two Hungry Children -  Lucas Nickle (The Ant Bully) and Dani Dennison (Disney's Hocus Pocus)
Gallery
Community content is available under
CC-BY-SA
unless otherwise noted.