Template:PokéBox Template:Nihongo is a Template:Type-type Pokémon introduced in Generation II. She is thought to be Tauros' female counterpart.
Biology
Physiology
Miltank has many similarities in appearance with a dairy cow (specifically, the Jersey cow), but is predominantly pink in color, with a black hood, and a plump, cream-colored belly/udder with four pink teats on her. Miltank is both bipedal and quadrupedal, depending on their current actions.
Behavior
Most Miltank prefer to give milk (in its case, breastfeed) to other Pokémon rather than humans. Their natural maternal instinct makes them one of the most protective Pokémon, in terms of being their "wet nurse".
Evolution
Miltank does not evolve.
Game info
Game locations
Template:Game Locations
Side game locations
Template:Side Game Locations
Pokédex entries
Template:PokédexEntry
Side game data
Template:PRSOAdata
Stats
Template:PokéStats
Learnset
Leveling
TM/HM
Breeding
Tutoring
Sprites
Template:SpriteGallery
Anime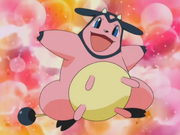 Supporting
Minor
Whitney's Miltank

Miltank (GS091)

Miltank (RS172)

Ilta
Trivia
Miltank's Silver and FireRed Pokédex entries imply that Miltank gives live birth like real-world mammals, despite Pokémon Eggs being introduced in the same generation as the former. This may be the reason why the entry was altered in SoulSilver.
Base on Miltank's script when it levels up in Pokémon Mystery Dungeon and Red Rescue Team and Blue Rescue Team, the nutritiousness of its milk would increase. Despite this, the potency of Milk Drink remains the same in and outside of battle.
Origin
Miltank is based on dairy cows, primarily Holstein and Jersey cows.
Etymology
Miltank's name is the portmanteau of both "milk" and "tank" (both a storage container for liquids, such as milk, and in reference to its stout body and high Defense stat).
Gallery
Template:References Template:GenIInav Template:Family Template:PokémonPrevNext
ko:밀탱크 (포켓몬)