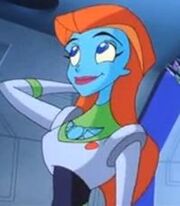 Mira Nova is one of the main characters from Buzz Lightyear of Star Command. SHe is the tomboyishly beautiful princess of Tangea.
She is Roger's Wife
She played as Penny in Over The Animated Hedge
She is a Maid
She is Loonette's Granny
She e is a Queen
She played as one of the Muses in Reefcules
She is a Goddess
She played as Sergeant Calhoun in Wreck-It Booster
She is a Soldier
She is a Beautiful Princess turns in a swan
She is a Small
She is a Witch
She played Raye/Sailor Mars in Sailor Megara
She Played Jupiter In Sailor Malina
She will play Peg Pete in an upcoming Goof Troop parody
She will play Holi Would in an upcoming Cool World parody
She will play Tony Rydinger in an upcoming The Incredibles parody
She will play Franny Robinson in an upcoming Meet the Robinsons parody
She will play Gadget Hackwrench in an upcoming Chip n Dale Rescue Rangers parody
She will play Audrey Ramirez in an upcoming Atlantis: The Lost Empire parody
She will play Miss Kitty Mouse in an upcoming The Great Mouse Detective parody
She will play Phoebus in an upcoming The Hunchback of Notre Dame parody
Gallery
Community content is available under
CC-BY-SA
unless otherwise noted.