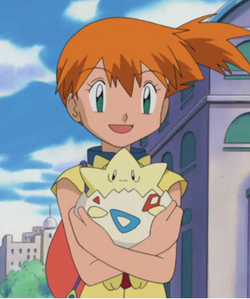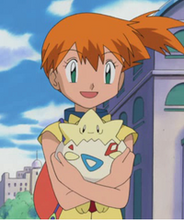 Misty (Japanese: カスミ Kasumi) is an aspiring Water Pokémon Master and a former traveling partner of Ash. She is also the Gym Leader of the Cerulean Gym, handing out the Cascade Badge to Trainers who defeat her. She specializes in Water-type Pokémon. She is the youngest of four sisters. She is often teased by her older sisters, Daisy, Lily and Violet, the "Sensational Sisters" who label her as "the runt".
Family:
sisters: Daisy (oldest), Lily (third oldest), Violet (second oldest)
Voice Actors:
She played Princess Aurora in Sleeping Misty
She is a Fire Nation noble
She played Anna in Frozen
she is a Ravenclaw student and Cedric Diggory's girlfriend
She is the Ultimate Symbol of Strength and Courage
She played Rapunzel in Tangled
She played Dimitri in Ash-stasia
She is a Kitchen Boy
She played Thumbelina in Mistylina
She is a Girl
She is a Pixie
She is a Tai Chi chaser
She is an Indian Princess
She is a Showgirl Mouse
She played Ursula as Vanessa in The Little Dawn
She is a Sea Witch in Disguise
She is a Duck
She is a Mermaid
She is a Mer-Girl
She is a Little Girl
She is a Mouse
She played Peter Pan in Misty Pan
She is a flying boy who never grows up
She is a Gryffindor student, the love interest of Harry Potter (Ash Ketchum) and the younger sister of Ron Weasley (Taran)
She played Supergirl in Super Misty
She is a superheroine
She is a recurring role
She played Powerdered Toast Man in Misty Girl
She is Shaggy's girlfriend
she is the 4th sailor scout
She is the 2nd sailor scout
she is one of Goku's friends
She Played Herself In Pokemon 398Movies
She is a Rich Woman
She Played Brie In An American Tail 4 (Chris1702 Style)
She is a ????
She is a ????
She Played Hippo In Madgascar (400Movies Style)
She is a Hippo
She is Zoe's Big
she is a Young mouse
She is Theodore's rival and love interest
She Played Velma In tramp doo
she is a Mystery Solver
She is a Pink Powerpuff
She is a Warrior
She Played Sailor Pluto In Sailor Rukia
She is the Elderst Sailor Scout
She Played Sam In Totally Spies (170Movies Style)
She is an Extra or Andrew's Sister
She is an Arabian Princess
She is
She Played In Ash 'n Brock Rescue Rangers (Chris1705 Style)
She is a White Poodle
She Played Raye/Sailor Mars in Sailor Perdita
She is the 3rd sailor scout
she is ?????
Similar from chracters:
Lita/Sailor Jupiter (Sailor Moon) (Both ????)
 ???? (Alvin and the Chipmunks) (Both Tomboys and are the youngest)
 ???? (The Little Mermaid/Disney Princess) (They''re Both Mermaids)
Pipi Longstocking (Both have red Hair)
Portrayals:
Gallery:
Community content is available under
CC-BY-SA
unless otherwise noted.