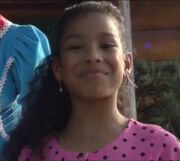 Miyoko Aminah-Khalil Chilombo (born March 30, 1981) was a Kidsongs kid from 1990 to 1993. She replaced the retired Sh'Vaughn Heath in 1990 and starred in Kidsongs: Very Silly Songs (wearing a pink shirt with black polka dots) and Kidsongs: We Wish You a Merry Christmas. Miyoko also made a cameo once in Kidsongs: Play Along Songs (wearing a pink Kidsongs shirt and orange shorts. She was also pulling Miyagi Chilombo on a wagon in the song "Bumpin' Up and Down"). She has light skin and very long hair. She was replaced by Yvette Flores in 1993.
Miyoko was a member of the '90s girl group Gyrl and has been in many music videos during the '90s including teen sensation Immature as well as global superstars, Michael Jackson and Prince. She is also R&B recording artists with Jamila Akiko-Aba Chilombo, Jahi Chilombo, Miyagi Chilombo passed away in 2012 and Jhene Aiko-Efuru Chilombo; whom both were also apart of the cast.
Community content is available under
CC-BY-SA
unless otherwise noted.