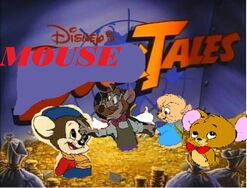 4000Movies' TV Spoof of DuckTales (1987-1990). It will appear on YouTube in 2017 to celebrate the 30th Anniversary of DuckTales.
Cast:
Scrooge McDuck - Hiram Flaversham
Huey - Sniffles (Looney Tunes)
Dewey - Jerry Jr. (Tom and Jerry Kids)
Louie - Timmy Brisby (The Secret of NIMH)
Webby - Abigail (Once Upon a Forest)
Mrs. Beakley - Mrs. Judson (The Great Mouse Detective)
Duckworth - Basil (The Great Mouse Detective)
Launchpad McQuack - Justin (The Secret of NIMH)
Magica De Spell - Desiree D'Allure (Chip 'n Dale Rescue Rangers)
Beagle Boys - Steele and his Friends
Fenton Crackshell/Gizmo Duck - Bernard (The Rescuers Down Under)
Seasons:
Movies:
See Also:
Trivia:
Gallery:
Community content is available under
CC-BY-SA
unless otherwise noted.