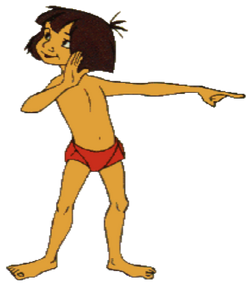 Mowgli is the main protagonist in The Jungle Book. In the 1967 film, he was voiced by Bruce Reitherman. In The Jungle Book 2, he was voiced by Haley Joel Osment.
He played Aang in Avatar: The Last Airbender (PrinceBalto Human Style)
He is the Avatar
He is a Jedi
He is a future pirate
He is a prince
He played Human Pinocchio in Olafnocchio
He is a real boy
He is a boy
He is Mrs. Leary's foster son
He is the Darling's older son
He is an Earthbender
He is a lion
He is a little boy who plays the drum
He played Johnny Bravo in Mowgli Bravo
He is a hunk
He played Willy in Once Upon a City
He is a woodmouse
He is a timid and cautious boy
He is a flying boy
He played A Kid that Mike Entertained in Ohanas Inc.
He is a kid
He is a young squire
He is a street rat
He played Curdie in The Princess and the Shadow Man
He is a son boy
He is a puppet
He is a boy
He is a pig
He is a rich girl
He is an orphan
He is a monster
He is a kitten
He played 12-year-old Timmy in The Secret of NIMH 2: Peter Pan to the Rescue
He is a tween mouse
He is a mouse
He is a boy
He is a boy
He is a boy
He is a Pokémon Trainer
He is a dog
He is a kitten
He is a mountaineer
He is a baby penguin
He is a hornbill
He played Binky in Mailbox (Arthur)
He Played Young Andy Davis In Action Story 1, Action Story 2 and Action Story 3
He Is A Andys Toys Boy
He is a mouse
He is a kid fish
He is a Prince
Portrayals:
Gallery:
Community content is available under
CC-BY-SA
unless otherwise noted.