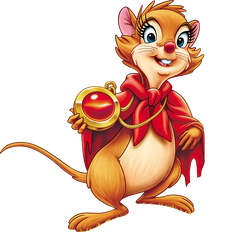 Mrs. Brisby is the main heroine from The Secret of NIMH.
Voice Actors:
Elizabeth Hartman
Debi Mae West
She played Shikaka in Charlie Barkin: When Nature Calls
She played Cinderella in Brisbyrella
She played Aurora/Briar Rose in Sleeping Brisby
She played Stacey Johnston in Fievel and Jaq
She played Mulan in Brisbylan
She played Trista/Sailor Pluto in Sailor Brittany
She Played In Sailor Jeanette
She Played Scooby Dee In Basil Doo
She played Delia Ketchum on Pokemon (170Movies Style)
She played Himeko Nayotake In Sailor Moon S: Hearts In Ice (Chris1702 Style)
She played Robin Hood disguise as Fortune Teller in Fievel Hood
She played Maid Marian in Basil Hood
She played the Queen of Ant Colony in A Critter's Story
She played The Rose in June In Wonderland
She played Sky in Total Drama (Badly Drawn Rainbow Style)
She played Lindsay in Total Drama (ilovecakeAJ Style)
She played Jill Young in Mighty ??? Young
She Played Dory In Finding Minions Finding Littlefoot Finding Gin And Finding Brisby
She will play Gadget Hackwrench in an upcoming Chip 'n Dale Rescue Rangers parody
She will play Mrs. Dolores 'Mama' Toad in an upcoming Thumbelina parody
Portrayals:
Gallery:
Community content is available under
CC-BY-SA
unless otherwise noted.