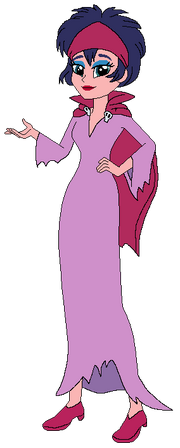 Ms. Grimwood is a character of the movie, Scooby Doo and the Ghoul School. She appears in Pamela and Chad's Awesome Adventures, making her debut in Sad Ghouls.
Voice Actors:
Moira Kelly - English
Appearance:
Miss Grimwood is a short, flat nosed, middle-aged female, with dark hair. She wears a pink dress and a red cloak held on with skull buttons, and red head band.
Personalty:
She is sweet and friendly to every visitor she has, although she is quite assertive when she has to be. She loves to cook and has a preference for the macabre.
Portrayals:
Gallery: