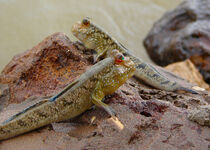 Mudskippers
(
Periophthalmus sp.
) are found in the Indo-Pacific, from Africa to Polynesia and Australia. They live in swamps and estuaries and on mud flats and are noted for their ability to climb, walk, and skip about out of water. Elongated fishes, they range up to about 30 cm (12 inches) long. They have two dorsal fins, and their pelvic fins are placed forward under the body, either partly or completely fused. Their blunt heads are topped by large, movable, close-set, and protuberant eyes, and their strong pectoral fins aid them in movements on land. Out of water, they breathe with air trapped in their gill chambers as well as through the skin. They prey on crustaceans and other small animals.
Gallery
Books
Community content is available under
CC-BY-SA
unless otherwise noted.