Nobody is allowed to edit this except the creator Snort98 .
Chapter 1 The new Girl
Kermit rushed comming back from a bakery ( where he ate his breakfast ) to the Muppet Theatre . And he wanted to say to everyone  " Everybody we have a new muppet thats joining us and its a girl " !!!! Yes said all the female muppets . She might be a fashionista said Miss Piggy , She might be a hippie said Janice , She might have a brass instrument talent said Trumpet Girl . Shut said Kermit I present to you  Apolake Singana ! Apolake walked up she was a Gorgeous Muppet . Animal got a crush and blushed . Wait did you get a body Modification on your hips and ..thing ? Well no its just my natural size said Apolake . Ok so where are you from said Kermit . Singapore , Indonesia said Apolake. Indonesia ? said Fozzie .Where or What is Indonesia ?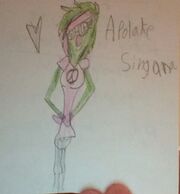 Chapter 2 Guesses and Welcoming 
Oh um Indonesia is a island in Southeast Asia and its capital is Jakrata .  Oh said Fozzie . Apolake smirks a little at Fozzie . Is Indonesia connected or next to any were ? said both Kermit and Gonzo . I think its connected to were I live Singapore and Malaysia and its a little close to the Philippines . Ooohhh said all the Muppets . What are the latest fashions there Appy ? said Miss Piggy . I honestly don't said Apolake . OK STOP TALKING ABOUT INDONESIA WE WANT TO KNOW ABOUT HER NOT WHERE SHE LIVES ! said Kermit with Fury . Everyone was silent for.a while .
Chapter 3 What can you Do ?
So what are your Talents Apolake said Kermit . Um I can draw , paint and oh play the guitar ! Janice said YA you can join our band ! Oh cool what is the name of the band ? said Apolake . The Electric Mayhem kid said Dr. Teeth . Cool You can play just the normal Acoustic Guitar said Floyd . Ok said Apolake with excitement . Well I guess she found were she can be said kermit with a little sigh . 
Community content is available under
CC-BY-SA
unless otherwise noted.